A press conference was held at 1:30 p.m. on October 4, 2021 to announce prize winners at the 19th Tokyo International Music Competition for Conducting.
First of all, the digest version of the video footage for the final round conducted at the Tokyo Opera City Concert Hall on the previous day was shown.
Next, Kazuto Ito, President of Min-On Concert Association and chairperson of the Organizing Committee of this competition, gave a few words of greeting, which was followed by the introduction of attendees at the press conference.
The press conference was attended by Tadaaki Otaka, chairperson of the Panel of Judges, and Judges Rainer Küchl, Hubert Soudant, Junichi Hirokami and Ken Takaseki, as well as Hiroshi Kuwabara and Toshio Miyazawa, members of the Executive Committee. Sian Edwards, Okko Kamu and Jun Märkl, members of the Panel of Judges, participated online.
The results were reported. There were applications from a total of 331 applicants from 49 countries and regions around the world, which was the record high. As a result of document and video footage screening, 12 applicants from six countries were selected to participate in the first preliminary round, and among them seven contestants moved on to the second preliminary round. Four finalists performed in the final round, and the first prize went to José Soares (Brazil), the second Samy Rachid (France), the third Bertie Baigent (UK), and Satoshi Yoneda received honorable mentions. It was added that all the finalists were in their 20's.
Then, Mr. Otaka gave a speech as follows:
"Since the COVID-19 pandemic started last year, the situation became worse and worse. We even thought that it might be inevitable to cancel the holding of this competition this time. Considering the possible postponement for a year, we even booked the orchestras for 2022 as well. The organizing committee, however, made a bold decision to hold this competition this year. Even after that decision, the pandemic situation continued to worsen. I was concerned and worried that the competition had to be cancelled after all. And now that you, contestants and judges, are all here. I was moved and overjoyed almost to tears to see you coming all the way.
I have a favor to ask of the three of you. It's been 50 years since I began conducting. Maestro Blomstedt is in his 90's. Therefore, I believe that you can continue your career for 70 years from now. My hearty congratulations to you all!"
Each of the prize winners offered some words as follows:
Bertie Baigent: "I am so happy to have been able to make my first visit to Japan. I feel very much honored to receive the third prize in this competition. It was a great experience for us to work with the orchestras and I truly appreciate it. The piece by Strauss that I tried at the final round was the music that I wanted to conduct for many years, so I was grateful and honored to have the opportunity to do so."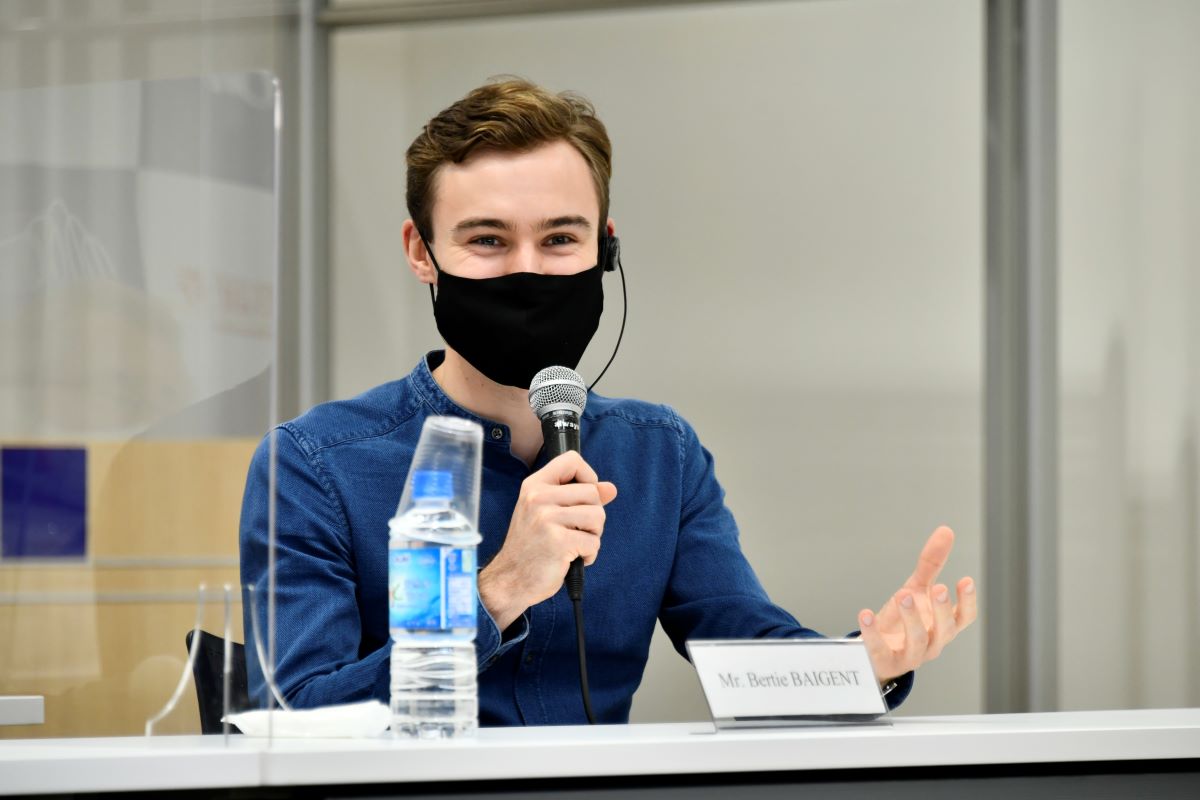 Samy Rachid: "This whole week and the two weeks of self-quarantine before that were such a great experience. This competition was very well organized. They lent us great support during the quarantine period and so we were able to concentrate on the performance. I do not have much experience to conduct an orchestra, and I appreciate very much the opportunity to perform with such wonderful orchestras at the preliminary and final rounds. I am grateful as a French person that I was able to conduct the music by a French composer in front of the audience here in Japan."
José Soares: "It was a unique experience for me. I am extremely honored even just to have been able to participate in such an international competition. First, we had to endure the 14-day voluntary quarantining because of the COVID-19 pandemic. This was my first participation in a major competition and I am happy that I received this honor. I also felt fortunate to try and learn various repertoire. The world is still struggling to deal with the COVID-19 pandemic. Brazil, my country, is no exception; orchestras are struggling there, too. I feel honored to have such an opportunity under such circumstances. I believe that it is our mission to share with everyone the joy and happiness that we can gain from music. I will continue to do so."
During a Q&A session Takuo Ikeda, music journalist, asked a few questions and he mentioned that there was an opinion to use only English for rehearsal. Mr. Otaka responded to that opinion later by stating as follows:
"It does not matter whether English is used or Japanese is used. When Sir John Barbirolli conducted at the Berlin Philharmonic Orchestra, he tried to speak German but his German was so terrible that the orchestra members told him to stay with English, his mother language. However, he did not use English but to indicate only rehearsal numbers and sometimes he sang for himself. In addition, as he was a cellist, too, he would borrow the instrument from a cellist of the orchestra so he could instruct the orchestra by playing the cello. This is how the wonderful performance of Symphony No. 9 of Gustav Mahler was made possible. So, it is my personal opinion that I do not want you to become a conductor who is good at giving verbal instructions but fails to create anything."
Questions were also taken from online participants. Ryoichi Matsumoto from the Yomiuri Shimbun asked an interesting question. He asked to the prize winners what kind of musicians they would like to be in ten years from now.
Bertie Baigent responded as follows:
"Haitink was one of my favorite conductors, who had continued conducting as he turned to 90. In order to have a long career as a conductor you need to continue learning something new. Learning something new could be, for example, challenging new music and also revisiting some masterpieces as you reach 40 or 50 years of age. I believe it is important to learn something new."
Samy Rachid stated:
"I believe that to be a conductor is a long journey. I think it is important to learn how to communicate with an orchestra non-verbally with proper gestures and to convey things in a simple manner. In ten years from now I would like to expand my repertoire and especially study more about opera which is my favorite since childhood."
José Soares said:
"I think that to make music is something very dynamic and a long journey. In the course of that journey, I have not thought of what kind of musician I would like to be specifically. We are actually musicians who do not make any sound for ourselves. It is important to continue to advance and to strive for a better oneself."
Lastly at the request of Takuo Ikeda, music journalist, Sian Edwards, Okko Kamu and Jun Märkl, members of the panel of judges who were participating remotely in the press conference conveyed their messages to the contestants, with which the about-an-hour press conference for the announcement of prize winners of the competition was concluded.